Aside from the gruelling hospital shifts and treating patients, nurses and health workers all over the world have additional concerns on top of everything else. Some have reported irritation, breakouts, and abrasions from wearing face masks and PPE continuously for 12-14 hours on end.
Breakouts will eventually pop up along areas where the face masks put on pressure the most. According to top dermatologists, masks can cause friction on the skin, which can lead to the disruption of the skin barrier and some inflammation. Masks also trap oil, sweat, and dirt on the skin, causing flare ups of skin conditions like eczema, acne, and rosacea.
Dr. Harold Lancer, dermatologist and founder of Lancer Skincare, tells CNN that aside from irritations and reactions to mask materials, the heat will trigger a moisture change in the skin underneath the mask. It can eventually lead to problems like pore congestion, blemishes, and excessive oil retention.
But we can't disregard face masks just for that, right? So we've compiled a couple tips and medical advice from skin experts so that we can continue to protect ourselves while still taking care of our skin.
Maintain a gentle skincare routine
It's important to regularly do your cleansing regimen. According to Dr. Hadley King, if there are abrasions or skin irritations where the mask has been, wash the affected area with water and a gentle cleanser. You can also apply an ointment like Aquaphor to help heal the irritated skin. It's also strongly advised to keep your skincare routine gentle.
If you are taking potent skin treatments, Dr. Dan Belkin tells Into The Gloss, "Be careful with acids or retinoids, as these can worsen irritant contact dermatitis and perioral dermatitis."


Moisturize, moisturize, moisturize
Dermatologists cannot stress this enough. We know temperatures have risen to astronomical levels, but this isn't an excuse to skip moisturizers especially if you're going to wear a face mask during the day. It's advised that if your skin has been irritated, keep the affected skin lubricated with occlusives.

Dr. Belkin emphasizes that even if consistently moisturizing with a rich cream can feel gross under a humid mask, it is heaps better to prevent red spots from turning into sores. When you sleep at night, he advises to make sure to cover any injured areas on your face with a healing balm.

Use 100% cotton face masks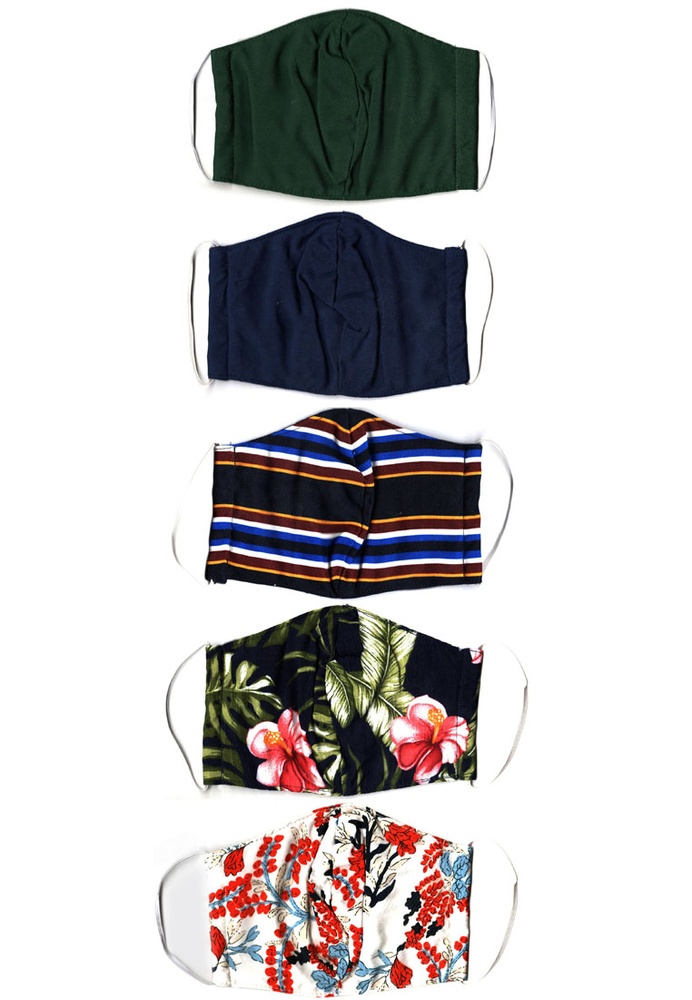 According to Dr. Lancer, if you're making your own mask or if you would rather opt for a cloth mask, it's recommended to use 100% cotton fabric as much as possible since the more synthetic a material is, the more heat retention occurs on the skin that is covered by the mask. 
Avoid those, and you'll avoid the likelihood of irritation. Especially to people who have allergies or sensitivities to certain materials, cotton is your best bet.

Wash your reusable masks frequently
That being said, wash your cloth masks regularly, just like how we always advise to wash your pillowcases often to avoid breakouts. Fabric masks should be washed after every use to stop bacterial growth.

If you haven't checked it yet, the CDC issued correct guidelines on how to properly wash your fabric masks. Ideally, if you can't use a washing machine, hand wash it with lukewarm water or soak it in bleach and scrub for a good 20 seconds before drying it with heat.

Minimize pressure
For health workers who have to tighten their masks for safety purposes the majority of their day, it's advisable to apply silicone skin protectants or adhesive tapes on the nose area and cheeks, or cotton pads behind the ears to offload the pressure of the face mask garter.
But for those of us who just wear the mask for a few hours out of our day and only during errands or necessary travel, we are lucky enough not to wear it for long periods of time! Still, to those with very sensitive skin, remember to keep the pressure on your face minimal as it can trigger irritation and sores.